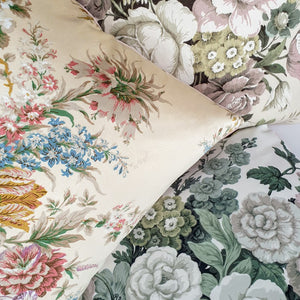 Vintage Floral Cushion Cover In Cream Muted Sanderson Florals
PLEASE NOTE THIS IS FOR THE COVER ONLY.  YOU CAN ADD A CUSHION PAD TO YOUR ORDER BY CLICKING HERE. 
 This beautiful vintage floral cushion cover, measuring 20 inches by 20 inches, is a limited edition piece, made in England.
Featuring a stunning vintage design, this eye-catching cushion cover is sure to stand out in any space and make a statement. Crafted with meticulous attention to detail, this piece is part of a limited run and will be a cherished item for many years to come.
The 20 inch square cushion cover is a unique piece that features a classic floral design and is a long-lasting item that will elevate any room.
Offering style and sophistication, this cushion cover is a great addition to any home, providing a pop of color and visual interest. It is made of a high-quality vintage material that is sure to withstand the test of time. Perfect for the individual who appreciates vintage design, this exclusive cushion cover will become a treasured piece in any collection. Backed with beautiful quality eau de nil  velvet and finished with a concealed zip.
Please note that when using vintage fabrics we work very hard to ensure they are in the best condition possible, however we can only imagine the weird and wonderful places they have adorned before they came to us and with that may come some minor signs of the life they have lived.