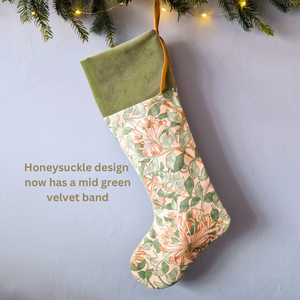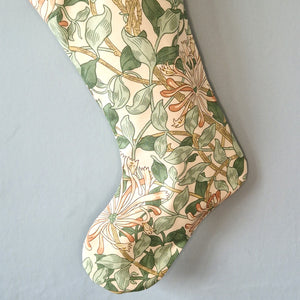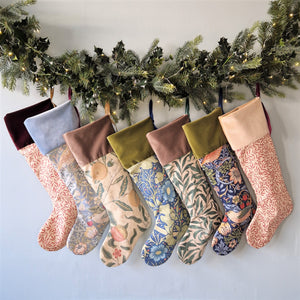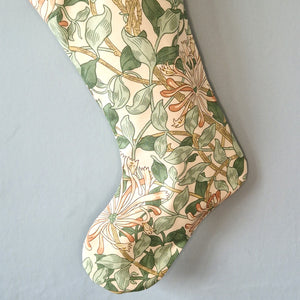 Christmas Stocking in William Morris - Honeysuckle
Now a staple of the Phillips & Cheers Christmas dept these beautiful heirloom pieces have become quite a tradition for many customers.

Not only will they become a treasured decoration brought out each year to hang on the fireplace, or somewhere special, but they are perfect for filling with little treats and presenting as a gift. Alternatively, fill them with scented cones and oranges and breathe in the fragrance of a traditional Christmas as you enter the room.
Each stocking is handmade using fine Morris And Co screen printed fabrics, is fully lined, has a luxurious wide velvet band and finished with a velvet loop and button ready to hang somewhere special.
The stockings measure approximately 55cm from top to toe, 25cm across the foot and 18cm across the shaft. Each stocking will be folded for delivery but will be beautifully wrapped.
If you are considering buying a stocking then I would strongly urge you to buy sooner rather than later. They are usually very popular and as each is handmade by me and some fabrics are limited, they do disappear and don't come back in stock.
Please note that pattern placement will differ from front to back and stocking to stocking