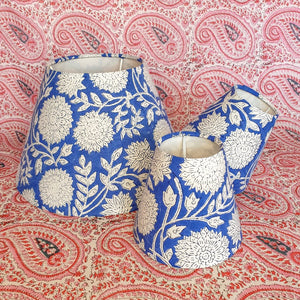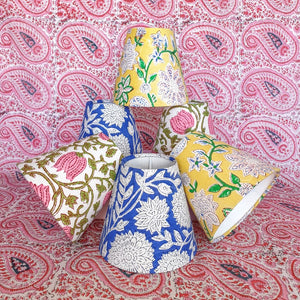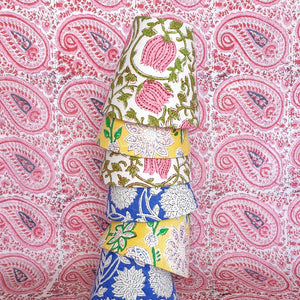 Indian Block Print Candle Shade - Blue
A new addition to Phillips & Cheers!
These beautiful coolie shades are made from hand block printed fabrics and are just too lovely to resist.  Fitting beautifully with an eclectic floral home they are perfect to add a pop of cheerful colour to a lamp base.
Each design is hand block printed in India using carved wooden and metal blocks. They are then dipped in natural dyes to create these lovely patterns.
Please note that as these fabrics are hand blocked they are not always perfect. Be it overlap of print or dye differences. However this only adds to their rustic handmade beauty. (please look at the close up of the design) 
The shade measures 14.5cm diameter, 13cm high, the top ring measures 7.5cm.
A low energy bulb of 40w or less is recommended.
OVERSEAS SHIPPING - Orders are shipped tracked and do not include any import and handling charges that may be incurred once the order arrives in the receiving country.